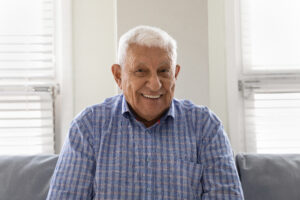 The time it takes you to take action and see a specialist about tooth loss can impact your health in ways that may surprise you. An extended period of time without your full smile can force changes in your smile, put more wear and tear on remaining teeth, and lead to jawbone density loss. That effect on your jaw tissues can lead to cosmetic worries and new dental problems, as well as difficulties with prosthetic treatment. One benefit to all-on-4 dental implants is that patients with lower bone density can still receive them. This can lead to the permanent placement of a lifelike restoration that gives you back your complete smile. Treatment with implants can help you with more than just your appearance, as you can enjoy more functional support and other oral health benefits from this work.
Jawbone Density Issues Can Make Traditional Implants Less Accessible
The roots of our teeth provide more support than you may realize. When you bite and chew, your roots stimulate the jawbone, a stimulation that acts as a signal for nutrient delivery. When your smile is not complete, you lose out on that support, and that leads to jawbone resorption. The longer this remains unaddressed, the more the bone loses density. You may have already noticed that you are taking on a "sunken" look that makes you look older and less healthy due to this problem. In addition to hurting your appearance, it can compromise your ability to plan prosthetic treatment, as it can become difficult to receive approval for dental implant placement. Fortunately, all-on-4 can be a helpful alternative.
Using All-On-4 To Restore Your Incomplete Smile
All-on-4 implant dentistry makes prosthodontic treatment more convenient and accessible. These implants are smaller than the traditional type, which means there is less concern over a lack of jawbone density before placement. For patients who have already lost their remaining teeth on their upper or lower jaw or need to have a row fully placed, all-on-4 uses conservative implant placement to hold a full denture. A close review takes place to ensure that the procedure takes advantage of areas of higher bone density to serve as support points. In addition to helping more people qualify, this solution can help speed up care, as you can enjoy a faster and easier recovery thanks to the smaller size of your implants.
Working With Patients Who Have Struggled To Qualify For Prosthodontic Work
Different issues can stand between people and full smile restorations. Because gum disease is often the cause of tooth loss, patients interested in implant dentistry can have unresolved periodontal problems that require attention before replacement teeth are set in position. We can work with you on managing poor periodontal health in order to help with this, just as we can work with you on resolving other issues that might stop you from having your smile restored.
Talk To Our Diamond Bar, CA Dental Office About All-On-4 Implant Dentistry
For more information on all-on-4 implant dentistry and your jaw health, call our Diamond Bar, CA dental office at (909) 860-9222.